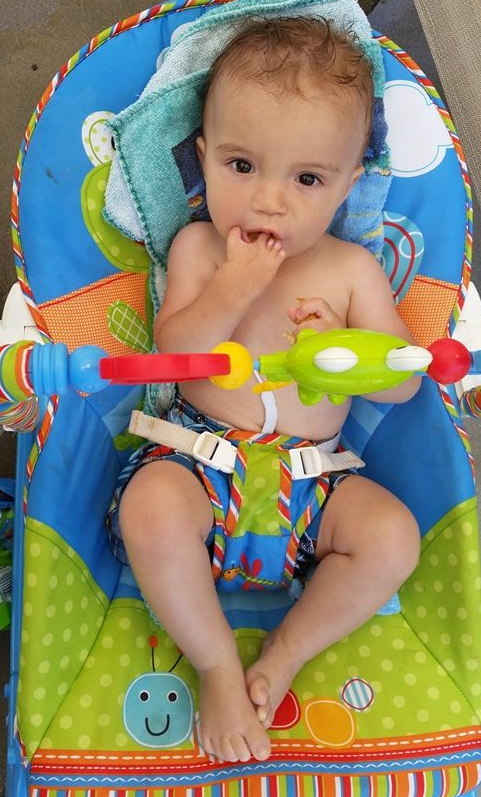 A while ago we shared a post about how to survive being stared at. We shared this to help others who may experience this feeling if they themselves have Poland Syndrome. But of course it applies to parents of children with Poland Syndrome and other limb differences.
The happy smiley little boy in this picture is Brody who we met on Facebook (he has his own page don't you know!) Brody was born with "Poland Sequence" (another name for Poland Syndrome). He's missing ribs, pectoralis major muscle, and severe deformity of the right hand. All affecting the right side. Brody's Mum commented on the post about being stared at and we thought it was extra specially important to share with you. We know it's not just adults who are wary of the stares but parents who feel it too. Here's what she had to say
Going out in public with Brody is always a bit touchy. Of course I'm proud, so proud to show off my beautiful happy and very special baby boy. His deformities are extremely noticeable. I've realized in the past few months every single place we go, adults whispering is what I hear and their stares are what I see. Children flat out ask, what is wrong with his hand and I am more than glad to explain it to them as they are just as innocent, they are curious and need to learn some are born different, they should grow to learn not to pick on those because they are different. Educating children to be acceptable of all people all shapes and sizes is so important to me. As I said it's adults whispering that I don't get. It's hurtful. Just ask me please….I love to educate and bring awareness to Brody's condition and Polands!
So how do you deal with this scenario? The need to protect your child from unwanted stares knowing they must sense it in someway is overwhelming. It can make you want to walk right up to them and say "Just ask me" or start a conversation explaining about Poland Syndrome. Why not share your own ideas, suggestions or views on this below. We think there is a big need out there on this topic so lets get sharing.