PIP-UK celebrates Poland Syndrome Awareness Day with Fun Day Meet-up!
#PolandSyndromeAwarenessDay
Poland syndrome is a condition in which a person's muscles on one side of the body are absent or undeveloped, causing anomalies in the chest, shoulder, arm, and hand. The extent and severity of the anomalies differ between those who are affected (Chowdhury et al., 2015)(Poland Syndrome: MedlinePlus Genetics, 2016). 
For Poland Syndrome Awareness Day on April 30th, PIP-UK organised an 'Awareness fun day' social event to support individuals who have been impacted by Poland Syndrome and to raise public awareness about the condition and the difficulties that those born with Poland Syndrome may experience.
The Awareness Fun Day was held at Rose Walker Centre in Stockport, owing to the Cheadle Heath Community Association's generous donation of venue hiring to PIP-UK, and was well-received by both the general public and those born with Poland Syndrome. It featured a range of outside activities for children and adults to participate in, such as ball games and skittles, thanks to the event's great location, situated near a lovely outdoor park. Inside the centre, attendees were able to showcase their artistic ability and bond through creativity with the help of Malcolm and Amang from Claytime, a local community group. PIP-UK also sought out a gaming truck to ensure that all children, regardless of their interests, had something fun to engage with! By providing a variety of activities, this awareness fun day allowed children who are affected by Poland Syndrome to be around a community of peers who understand what they are going through, reducing some of the isolation or bullying that those with the condition may experience as a result of being perceived as "different" from those without the condition (Adama et al., 2021).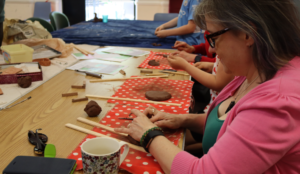 Families were also able to speak with one another about their experiences with Poland Syndrome at the event, a beneficial resource when raising and caring for individuals with rare diseases (Baumbusch et al., 2018). Charlie's mother, Jade Robinson, learned about the event after seeing it promoted on a banner. She was able to get assistance from other families dealing with Poland Syndrome as a result of her attendance, being welcomed into the community by trustees and other attendees. Charlie also loved the event as he was able to connect with other children who shared the same condition with him in a fun and activity filled environment. Events like these are fantastic because they give a safe area for people with rare diseases- such as Poland Syndrome- to share and interact with others who are in the same boat as them. Jade would not have known about PIP-UK and the community they could provide her and her son if it hadn't been for this Awareness Fun Day.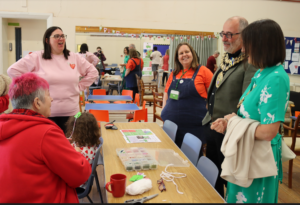 Research has shown that empowering patient associations- such as PIP-UK- can help to improve the lives of those living with rare diseases (Baldelli et al., 2019), and therefore I would like to extend a special thanks to the Mayor of Stockport, Counsellor Adrian Nottingham, who showed his support for PIP-UK's Awareness Fun Day by visiting the event and handing a thank you certificate to each of the dedicated volunteers who assisted PIP UK in making the day possible. I would also like to extend gratitude to Natalie Barron, of Love Hair Salon, for her kind donation of £500 who- having a child born with Poland Syndrome- wanted to show support for this family centred event. Her donation meant that PIP UK were able to hire such a wide range of activities like the gaming truck, going a long way to making the event a success. Hopefully PIP-UK can continue its great work and organise more inclusive community events in the future!
Written by Tiegan MacAulay.
Tiegan is an Undergraduate Forensic Psychology student at the University of Chester. Tiegan recently spent a week volunteering for PIP-UK as part of student placement initiative with the University and Dr Sondra Butterworth from RareQoL. RareQoL is a social enterprise on a mission to improve the lives of the rare community and PIP-UK is a member of the RareQoL network.  Huge thanks to Tiegan for all the fantastic work and Dr Sondra Butterworth for making this placement accessible to our small charity.