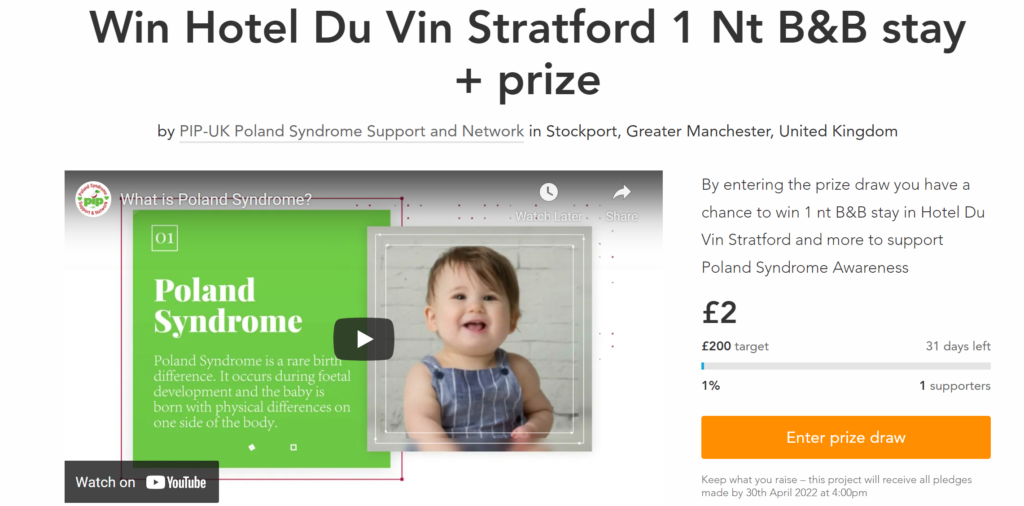 PIP-UK was gifted a raffle prize for a 1 night bed and breakfast stay in Hotel Du Vin Stratford upon Avon by Hotel Du Vin and Charity Escapes. Becca Butcher also gifted a designer make up and toiletries set. We have created an on-line raffle on the Crowdfunder website and tickets are £2 each or 3 for £5.  
Please purchase a ticket and share with friends, families and colleagues so we can sell as many tickets as possible. All funds raised go directly to PIP-UK to help us to continue to support the children's clinics and get medical research off the ground.
You can purchase a ticket by scanning the QR code 
or visit the website:  https://crowdfunder.co.uk/p/polandsyndromeawarenessdayprize
Poland Syndrome Awareness Day Resources
This Poland Syndrome Awareness Day we want to help you:
Get together & Raise awareness 
Celebrate & Fundraise
for Poland Syndrome across the globe. 
We have created some resources for you to print and use at home to help create the perfect Coffee and Cake event wherever you are in the world
. 
If you have never met anyone in our local area with Poland Syndrome, now's the perfect time.
Share your event details with us and we will share on social media. We hope people in the Poland Syndrome community and beyond can come together on our special day.
Want to create an event with your school or team that does not involve coffee and cake? We have created some bunting and this way signs for a generic event.  We can personalise these documents, so do get in touch if you would like us to edit for your event.
You can download and print event posters, invites, bunting to make at home. We have also included a quiz and prize draw for entertainment at your event. Included is a mini-poster for our on-line raffle to share at your event including a QR code and link to buy tickets.
You can share your event details by

contacting us here

or
 on social media

 
Facebook
,
Instagram.
 The download is in a zip file so you may need to extract the files once downloaded.  Any issues with downloads or anything else, please get in touch.
After the event you can send the funds you have raised directly to us. 
You can make a payment by sending money direct to our bank account.
Account Name: PIP Parents Information Portal
Account Number: 65548963 Sort Code: 08 92 99
Please note if you sending money from outside the UK you will need: 
International Bank account Number GB25CPBK08929965548963
Branch identifier Code CPBK GB22
You can also donate directly via Paypal.
You can send us a cheque through the post made payable to  PIP Parents Information Portal and post them to Flat 3, School Court, Meyer Street, Stockport, SK3 8JE.
Registered Charity Number  1188941