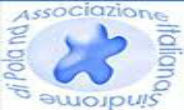 We were recently honoured to be invited to the annual Seminar for Poland Syndrome in Rome hosted by The Italian Poland Syndrome Association AISP, to give a presentation on our experiences of Poland Syndrome in the UK. We attended the family day this weekend and we had an amazing experience, met some amazing people and learnt so much about Poland Syndrome.
The first day was a training day for medical professionals to help them work with patients with Poland Syndrome. The second day was for families and there were many presentations, including 3 about the genetic aspects of Poland Syndrome given by Dr Anwar Baban, Dr Sebastiano Bianca, Dr Adalmaria Puliti and Dr Carlotta Vaccari. All of these doctors have carried out research into the genetic aspects of Poland Syndrome. The geneticists involved have now confirmed there is a genetic basis (quoted from research "though most cases of poland anomaly are sporadic, familial recurrence with different patterns of transmission has been observed in about 10% of cases") with regard to Poland syndrome. The scientific group has been carrying out the study with state-of-the-art survey techniques and through targeted projects for 10 years, which will hopefully engender outcomes soon.
There were two presentations from Psychologist about how to help deal with the psychological problems that people with Poland Syndrome and their families go through. It was very interesting to listen to and understand a little more. Hey have surveyed people with Poland Syndrome in Italy and in general the most difficult them time for is the teenage years, when expressing themselves by using their body is very important to them. They also recommended that everyone who has Poland Syndrome should consult a psychologist along with their family, to help them deal with the potential anxiety and body image issues that may occur.
There was so much information I could write all day, some other highlights included presentations on hand and chest surgery.
We also met the French Poland Syndrome Association who we look forward to working with in the future.
Thank you so much to AISP for inviting us to the event and we really look forward to working with them in the future, especially with the possibility of forming a European Poland Syndrome Society.
You can find out more about AISP by visiting their website http://www.sindromedipoland.org/.