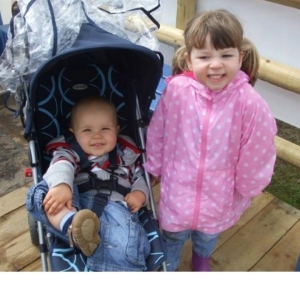 I recently asked my 8 year old granddaughter to write about her cousin George and his Poland Syndrome and it was an eye opener. I wasn't sure how to approach it with her so I told her I would like her to write a story about George and his hand and how she felt about it.
I was given a small blank stare then told "I don't really know what to write because its just George and that's how he is".
At first I though I hadn't explained very well, I slowly realised what she meant was she knew George had a smaller hand and she hadn't given it much thought because to her it wasn't important. She has fair hair and blue eyes, George has brown hair, brown eyes and a smaller hand, what's the problem?
Children are amazing aren't they. The acceptance of differences is just something they do, no questions. So here is her story, short and sweet written here as she wrote it herself.
My Cousin Georges' Hand

"I would like to write to say about Georges' hand. His hand may be small but still he is cool and it doesn't matter because he is one of us. I wonder if he is in pain, it may be bad it may be good. I wonder what it feels like. 🙂

It could be bad because if he was just doing his shoe lace it could be harder to do. I think it could be good to have a smaller hand because it is a different experience.

George has had a small arm when he was born so 2008 til 2014, so yes he has had it for a long time. When he was in the hospital the nurses realised that he had a smaller arm. Sometimes he has to wear a special glove.

He is still a cool cousin."
Thank you so much for sharing this with us Grace and most of all for being such a wonderful cousin!
If you would like to share your Poland Syndrome experiences we would love to hear from you. Please drop us an email to pip.charity@gmail.com or you can Tweet us @PIPManchester or leave a message on our Facebook Page.