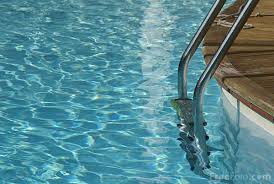 Swimming lessons seems to start from birth these days, we never went for the baby lessons, preferring swimming for fun, but at 5 my son had gotten to that point where he wanted to hide more in the pool and needed the swimming skills to do that. So we enrolled him at the local swimming pool for lessons.
He prefers to wear wet-suits for swimming but being a pushy mum, and worrying that he wears the suit because he is conscious of his PS, I bought him the best swimming shorts I could find (Batman of Course) and told him that he has to wear shorts for lessons. He protested a little but was too excited about his lessons to notice, I needn't have worried about him being body conscious, he couldn't care less, he just prefers a wet-suit, but he's kept the shorts for lesson (victory for mum hurrah).
It wasn't until a few months into his lessons, he was doing well, had received several certificates and I was having a little cry watching him one day that I realised I had not even considered telling the swimming pool or teachers about his Poland's Syndrome.
When he was diagnosed I envisaged having difficulty in every new situation, having to explain to people and make sure appropriate adjustments were made. How wrong I was, thankfully his Poland's Syndrome is so mild, that he can get on with most things without us even thinking about it. I think that's a good thing, Poland Syndrome is a part of him, but it isn't who he is and it doesn't dictate how he lives his life and I wouldn't change that for the world.