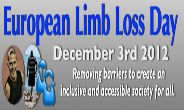 European Limb Loss Day was launched last year in London by the Associate Parliamentary Limb Loss Group.  This year, limb loss/difference associations are joining in together with the help of Dysnet to build on last years success, as well as the increased awareness brought by the Paralympics to limb loss and deficiencies groups and charities.
This years theme is removing barriers to create and inclusive and accessible society for all.  Here a PIP-UK we are proud to support European Limb Loss Day as it helps to raise awareness of children and adults living with limb loss and deficiency across Europe.
The European Limb Loss Day website can be found at http://europeanlimblossday.org/
The EDRIC/ DysNet site can be found at www.dysnet.org
@DysNet_org Will be tweeting throughout the day, so check out twitter for more updates.  We hope you will be marking the day as we are.
Update: European Limb Loss Day has come and gone.  But we will be working with Dynset again so stay tuned.