A couple of months ago we started participating in a Twitter hour in Wednesday 8pm -9pm with @CharityHourUK It has been a great source of information and learning for us. And we like to share back with this community things we come across that may be of interest. We a story about "The Invisible Audience" with the group. One of the participants was interested in this and the discussion we had amongst our own trustees. They invited us to share our experience by writing a short article. So we said "Yes of course".  And here is the result.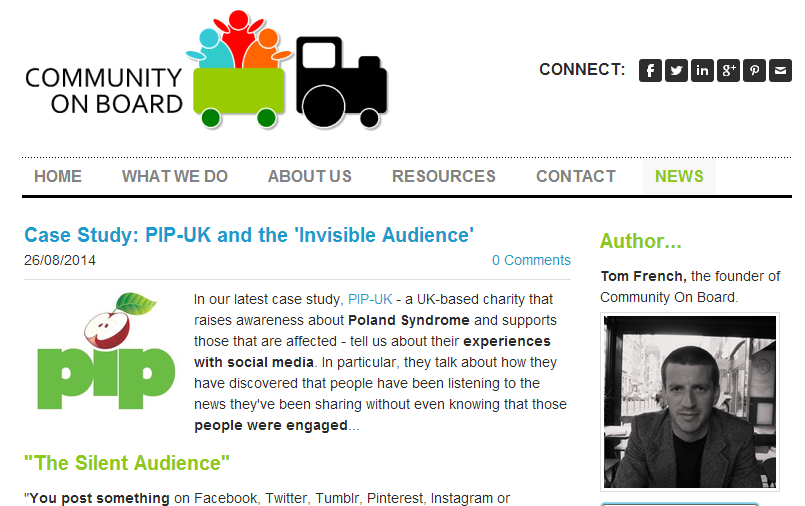 Community on Board are new kids on the block!  They have been going for about 3 months or so now. They work with organisations, charities and community groups to:
Create accessible, interactive and informative website content with a consistent message;
Review website structure to ensure logical and intuitive access to information for its users;
Set up and maintain social media accounts and campaigns;
Engage with supporters and beneficiaries through social media, web content, email communications and online surveys;
Analyse website and social media statistics to provide practical advice on shaping strategy;
Develop methods for effective internal communication and information sharing.
They believe in co-operative and partnership working and helping others to learn how the web can successfully complement – not replace – other, more traditional methods of communication.
Community on Board will undoubted become a great asset to everyone who is interested in Social Media and how to make the most of it. You can find them on Facebook, Twitter, LinkedIn, Pinterest and Google+  We highly recommend you follow these guys and get involved.