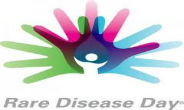 Today is Rare Disease Day and it is very close to the heart of PIP-UK as it champions rare condition's like Poland's Syndrome.  I will be marking the day by taking some Easter treats into my work place and making people aware of the significance of the day while they stop by for a treat.  If you aren't fortunate enough to walk by my desk at work today, please can you take part by taking two minutes from your day to watch a short video so you can find out more about limb differences that are rare.
The video was made by our friends at Dysnet

and can also be found by clicking here.
Let us know how you are marking the day where you are.