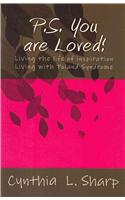 Last year my good friend Lynn Farmer at the Poland's Syndrome Support Group sent me the amazing book by Cynthia Sharp 'P.S You are Loved!'. The book is a collection of inspirational stories of people with Poland's Syndrome from around the world and each story is written in their own words, how they have lived with, been blessed with and conquered anything that there Poland's Syndrome journey has thrown at them.  The book features the story of Mario Padovani whom Anna introduced to PIP-UK last week and he talks about his amazing path into music and I love that his opening line is 'I am Mario Paovani and I was born and blessed with Poland Syndrome'. This line strikes a chord with me, as I would love my Son to have this outlook when he is older about his Poland's Syndrome.  My other highlights from the book include Derek Schwarz from America who has completed an Ironman Triathlon and six marathons. There is also a great story from Geyzer Salgado from America, who talks about a young adults struggle of coming to terms with your body and being self conscious and how he is overcoming that little by little. There are so many amazing stories, I could talk about them all day!
What I love most about the book is that one day, when my Son is older and has questions that I can't answer about how others with Poland Syndrome feel and how they have overcome obstacles, I can give him this book and I know that he cannot fail to be inspired by these stories and I think it will also help him to feel that he is not alone.
So this book, is part of my 'bottom drawer', a collection of books, songs and anything else I think will help my son, when he is old enough to want to know more. I hope to share more of these things with you all at some point. Meanwhile, if you haven't read it, please do!