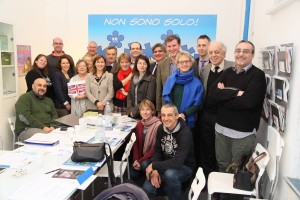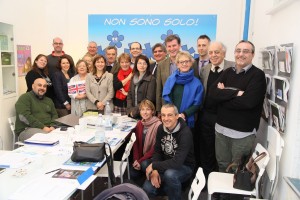 First of all I must say a big thank you to everyone from AISP, Associazione Italiana Sindrome di Poland. They were so welcoming and looked after us very well I hope we can return this hospitality very soon.
Its so exciting to be part of PIP-UK and see it growing all the time. It was with this excitement that I set off to the conference with Val Murphy our volunteer. Its quite awesome taking part in such important meetings. I'm just an ordinary person so I find these events daunting.
On the flight I sat next to an amazing guy who coincidentally had set up his own charity also. We talked about our charities, he was such an inspirational person, he gave me the impetus to attend the meeting with more confidence.
The main aim of the meeting was too prepare and organise a European conference in Monaco in 2016. The conference is too bring together doctors and surgeons from all over Europe to discuss Poland Syndrome, its implications and the surgical treatments available. It is too give the medical professional an opportunity to discuss how each one treats P.S. and what are the latest developments in this treatment.
Val and I went to the meeting on Saturday morning and met the other Europrean associations and surgeons who had accompanied them. The associations were from UK,Italy,Spain and France. Each association gave a presentation about their charity. It is interesting to see how each association is growing and how we all work. We had great interpreters in Tomaso and his wife Sandra, who talked us through each presentation and the following discussions, they did a great job thank you both.
PIP-UK is very pleased to have Dr McArthur on board, who will attend and represent us in Monaco. Professor McArthur is a Consultant Plastic surgeon at Whiston Hospital Liverpool, and Alder Hey Children's Hospital, Liverpool and a member of BAPRAS, British Association of Plastic Reconstructive and Aesthetic surgeons.
After the presentations we held a group discussion about the practicalities of holding such a large conference. We talked about the number of people who may attend, the cost, transport, accommodation and all the other many things that would have to be organised. The doctors discussed the agenda including what subjects would be discussed in each section of the day. This included the clinical, physical, physiological and physiotherapy aspects of treating PS.
We all met again for dinner that evening which was a chance to be less formal and get to know each other a little better. We met some of the families of the association members too.
The next morning we met again at the offices of AISP. This morning we discussed a proposed European federation website. The aim of this website is to have one worldwide focal point for people with P.S. to find information, advice and an association near too where they live. We talked about how this would work and what information we would need to include. This is still a proposal at the moment and there is much more work to be done to bring this to life.
Val was a great ambassador for PIP-UK. She was quite nervous attending the conference as she too had little experience of this type of event. I must say she was excellent. She spoke to everyone with confidence and enthusiasm. She was outside her comfort zone but she made a point of chatting to as many people as she could and she represented PIP-UK excellently. I was very proud of her at her first assignment as a volunteer.
We left the meetings and Genoa with a lot of information and work to be done. We also left with some lovely gifts. AISP gave us a mug and a fridge magnet with their emblems on, lovely reminders of a successful meeting. Abrahim from Spain gave us beautiful hand made hearts with two hands holding the bottom edge, these were made by his mum, what a lovely thoughtful thing to do.
Our own trustee, Anna, is a dab hand at hand made crafts and has made some lovely things. We will have to get some ready for Monaco.
All in all it was a very exciting time. We look forward to Monaco 2016 and will keep you informed of its progress and the results too.