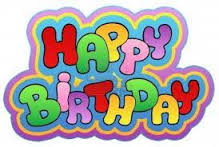 It's our very own Liz's birthday today. Many happy returns from the PIP-UK team. We hope you have enjoyed your special day surrounded by family and friends. A huge thank you for all your hard work for PIP-UK so far! We look forward to celebrating with you again.
Liz has been a tremendous support to PIP-UK even raising money for the charity by taking up the challenge to run 3 races. Liz is dedicated to the PIP-UK vision and helping us to spread the news about Poland Syndrome.
Liz recently attended the Italian Poland Syndrome conference in Italy with Sam. Liz is one of the founding members of PIP-UK and has been instrumental in helping to get PIP-UK off the ground and up and running.
Once again a very happy birthday to you Liz!