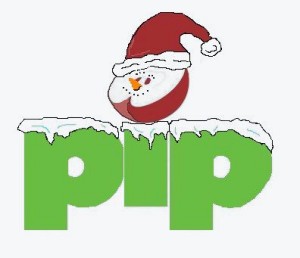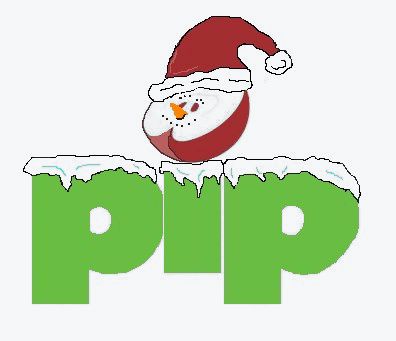 Christmas is coming!!!!!!!!
PIP-UK is a small charity but we have big ideas. We are always looking for ways to improve the help and support we offer. Of course we need funds to be able to continue, we don't receive any funding so we have to raise all our funds ourselves. Every penny counts and is very useful to PIP-UK. One way we use our funds, with £5 we can buy and send copies of the book 'P.S. You are loved!', by Cynthia Sharpe. This book offers support and inspiration from peoples personal experience of living with Poland Syndrome. We have sent many copies of this book out and people find it really inspirational and realise that they are not alone. So you see If you only raise £5 you will be making a difference to someone.
Would you like to get involved and help? Would you like to organise a fund raising event for PIP-UK? We have had sponsored walks and cake sales etc which have all been fun and raised funds for PIP-UK at the same time. Its a great way to raise awareness and meet new friends.
Here are some ideas you might like to use. You can do these at home with friends or organise a local event in you community.
Coffee morning
Dinner party
Games night
Girls night in
Give it up. Give up cigarettes or alcohol for a week or a month.
Pamper day
Quiz night
A raffle
A jumble sale
Sponsored events, a sponsored run or for the brave a parachute jump.
We also have ways you can raise funds without costing you a penny.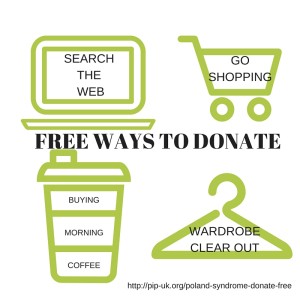 Coffee Time-    Caffé Nero
Register your debit card or credit card in a one time set up. Then every time you visit Caffé Nero and pay for coffee you will be making a donation to help individuals and families living with Poland Syndrome. Easy!
Shopping Online –    easyfundraising .org 
One time set up required. Then you need to log in before you shop online. There is a mobile app you can get too. Nothing too tricky with this option and it's free for you to use.
You can shop at over 2,700 retailers online and they give a donation to PIP-UK every time you buy something, at no extra cost to you.
Old clothes –  At the current time this option is no longer available. Unfortunately the organisation we were working with is no longer in business. Our apologies, once we have located a new solution we will update this page.
Search the web –    easysearch.org.uk
 See our,  Getting Involved, Poland Syndrome | Free Ways to Donate,  section of our website for all the details of how to donate using easyfundraising, clothes for charity, Caffé Nero and  easysearch.org.uk.
If you feel an event is not for you or you can't afford a donation you can still help, by helping us to raise awareness of PIP-UK and Poland Syndrome. Making people aware can be a great way to have more money flowing our way.
This can be done in many ways, from social media to blogging
Tell us how you would like to help
We welcome your thoughts and ideas so please contact us by email or by leaving a comment if you have would like to get involved and make a difference to someone.