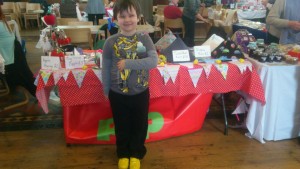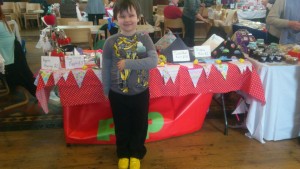 Craft Fair St Marys Church Stockport March 2015 – Fundraising for PIP-UK
Part of what we do is to find different ways to raise funds to enable us to continue raising awareness about Poland Syndrome.
One of our trustees Anna, is brilliant at crafting and is a member of a local craft group, that makes many different things. They knit, sew and crochet amongst other skills. They make dolls, teddy bears, greeting cards, hats, dresses everything you could imagine.
Anna organised her craft group to hold a craft fair at St Marys Church in Stockport and suggested we had a stall there. Anna organised everything brilliantly.
Anna and her mum had previously hand made some beautiful perfumed soaps for PIP-UK and these and other items were ours to sell on the day. A friend of Sam's, another crafter, also made some lovely items which she donated to us these included iPad/kindle lap cushions that you use to stand your device on your knee to make for more comfortable use, baby bandana bibs and bunting for a new baby's room. We had beautiful silver jewellery and keying's all of which were hand made.
We met some lovely people on the day and discovered that the church has a lovely café where you can get a great lunch or just a bacon sandwich after a busy day shopping in Stockport.
Having a stall in the local community gave us a chance to talk to people about Poland Syndrome and help others learn about this rare syndrome. Every person new we tell helps us reach our goal. There was plenty of interest at the event and most people had not heard about Poland Syndrome before.
Although it was a quiet day we did raise 37.50 which is a welcome addition to our funds. We are hoping to hold a family day and are in the process of organising a European conference in 2016 for sufferers of Poland Syndrome and these funds will go towards these events.
Thank you to Anna and all her friends at the Craft Group for inviting us.