EDIT: UPDATE – Unfortunately the organisation that we used is no longer in operation. We will be considering alternatives and let you know about any partnerships we make – PIP-UK Team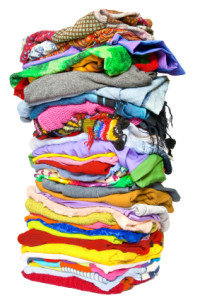 Like ,most people I have an abundance of clothes that desperately need sorting through and recycling. It seems my children have ten times as many clothes as me and I'm never quite sure what fits now, what's put away for when they are bigger or what should have been recycled a long time ago. So recently I ordered giant bags from Clothes for Charity and I was determined to get them filled up. When the bags arrived I will admit they sat on my kitchen table for more than a little while, but over Easter Bank Holiday I was determined to have a clear out in true spring cleaning style.
Seeing as the Children's clothes were the worst, we started there, all four of us, children all marched upstairs and we merrily went through all wardrobe's and draws. my poor 6 year old son was subjected to a lot of trying on clothes too see if they were now too long/small. I didn't dare ask the two year old to try on anything as she is so independent she just picked up everything we recycled and tried to wear it anyway!
It was not an easy task, although recycling my Children's and my husbands clothes' was much easier than my own…. But seeing the giant PIP Clothes for Charity bag get fuller and fuller, heavier and heavier was really satisfying. Every time someone moaned about trying on clothes (which happened a lot) I happily reminded them that its all for PIP so keep going! It really gave me steely determination to fill that bag to the brim.
It felt so good to do something so simple to raise money for PIP. There's 3 of us at PIP, we all work and have busy lives and we rely solely on fundraising and donations, the fundraising and donations don't come easy to us as we spend most of our time helping people, that's what we are here for after all, but we can't run on love alone, gets us pretty far though! So to know that a rainy afternoon trying and sorting old clothes would equal funds for PIP, felt pretty darn good. Approximately 26kgs of clothes later, my wardrobes and draws are very organised and PIP gets a donation from Clothes for Charity.
The postal of the bags and the pick up of the filled bags was all really easy and convenient, even for me who never has any time for such things. So if your wardrobes are brimming and your drawers are about to burst, have a good old clear out for PIP-UK and remember to get your bag from Clothes for charity first and get it picked up after, don't leave it lying around the house cluttering up your cupboards. Whilst your filling your bag be safe in the knowledge that each and every kilo is helping families with Poland's Syndrome, its that simple!
Ps if you live nearby and would like to give me the clothes donation, just drop me a line and I am happy to pick up.
Related Posts: