2016 Deep RiverRock Belfast City Marathon
Belfast will host the 2016 event on Bank Holiday Monday 2nd May. Over 17,500 runners are expected to hit the streets of North, South, East and West of the City.
We have been contacted by Debi who lives in Belfast. She has P.S. and has told us a sadly familiar story of having P.S. and growing up feeling alone and an outsider because of her P.S. not being able to take part in many activities at school and medical professionals not being aware of P.S.
PIP-UK was formed to raise awareness and help others with P.S. to not feel alone and isolated as Debi did growing up.
Debi has a birthday this week and has decided to celebrate this by running in the Belfast Marathon. Not only is she running her first marathon but she has decided that she would like to run and raise funds for PIP-UK, fantastic! This is very generous of her which we really appreciate. Debi hasn't run in a marathon before so this makes her doubly amazing!
As PIP-UK does not receive any funding and runs purely on donations and funds we raise ourselves, we do appreciate every penny. If you would like to sponsor Debi you can do so by making a donation on our website by clicking on the Donate button, please mark your donation as 'Belfast 2016' for reference. Go to "Get Involved" and select "Donate to PIP-UK" from the drop down menu, easy as that.
Today, April 30th , is also Poland Syndrome Awareness Day.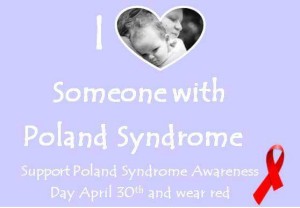 We send Debi our best wishes and good luck. We have our fingers crossed for some decent weather for her.
Thank you Debi for thinking of PIP-UK.
GOOD LUCK to Debi and all the runners in Belfast on Monday.