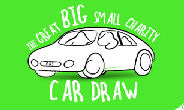 The Car Draw winning ticket has been drawn-
And the winner is
051246
A ticket bought from the charity Karmic Angels, who will be contacting the winner.
PIP would like to thank everyone who bought a ticket and helped to raise more funds for PIP.  PIP hope you enjoyed taking part in the FSI charity car draw and are pleased to say due to the success of last years raffle PIP will be taking part in the 2013 raffle which will be running from June 2013. Watch this space for the announcement.
Well done to everyone. With these funds we can continue to support and inform children, parents and anyone who needs us, about Poland's Syndrome.  Please keep in touch with pip-uk,  visit our website and let us know if you would like to take part in any of our events or if you would like to volunteer time to our charity.